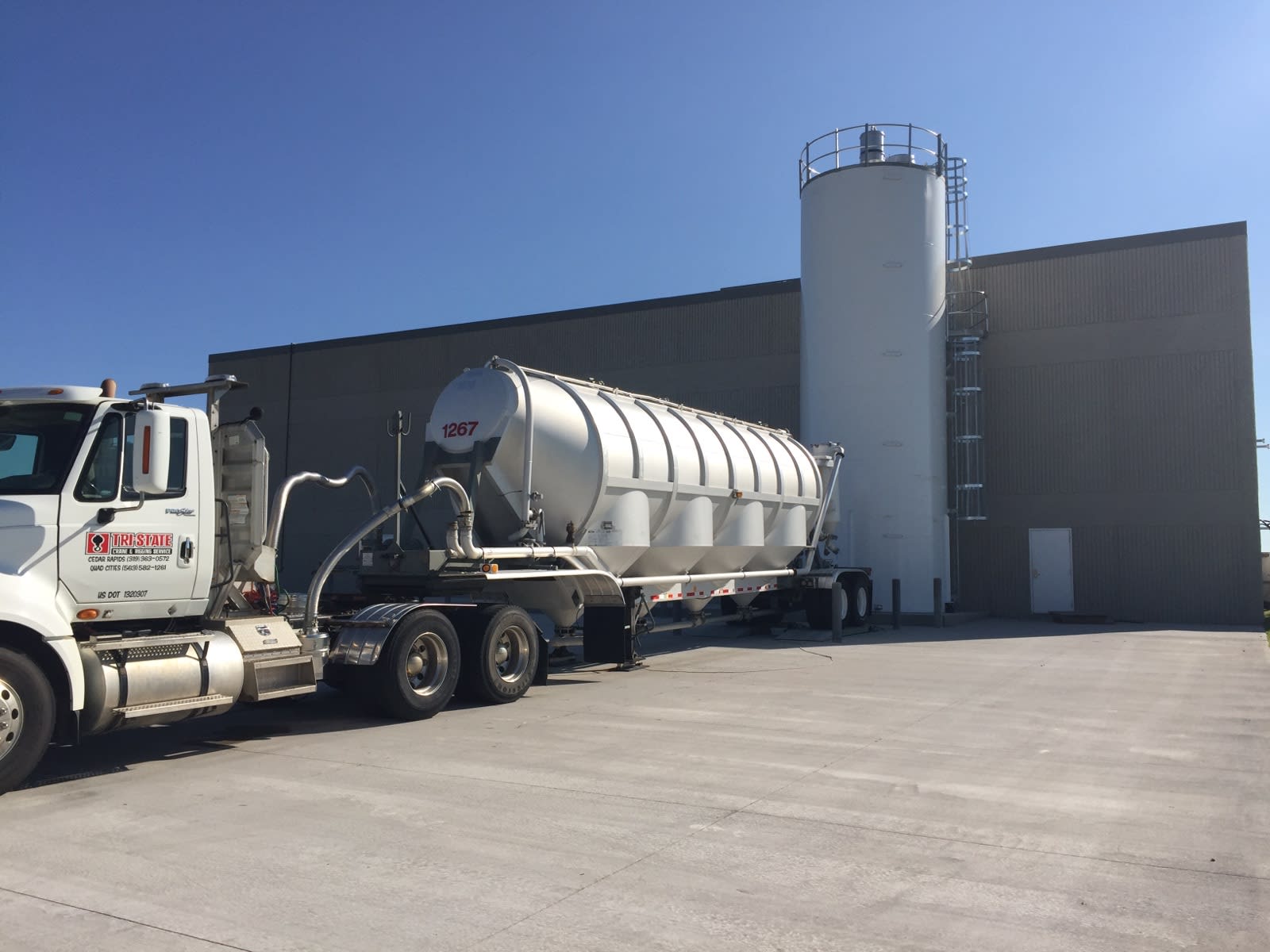 Silo and Bulk Transport
JEDA Polymers LLC, of Dyersville IA expanded their services this year with the addition of a silo on a newly constructed 24" thick concrete silo pad. Taking up residence on the west side of the JEDA plant, the silo comes by way of Novatec a commercial manufacturer of bins, silos, and conveying systems headquartered in Baltimore MD. The silo was constructed in Tennessee and transported to Dyersville, IA early August.
The newly installed silo is made from carbon steel and stands 35 feet tall by 12 feet in diameter. The working capacity is 3,007 cu feet, sufficient to hold 120,000 lbs of glass reinforced nylon. To house the silo and prepare for truck traffic, a 15,595 sq. ft concrete pad was poured in late spring. The silo pad has the capacity to hold three additional silos of equal size.
To meet the needs of a large office furniture manufacturer, the silo was installed to hold finished material specifically for this customer. Once the silo is filled with the nylon resin, material is conveyed into a bulk truck and transported to the customer's site and blown into their silo.
The inaugural bulk truck filled from the silo with nylon resin was delivered on Aug 28th. Typically JEDA's finished product is packaged in corrugated boxes which can hold up to 1,500lbs to 1,700 lbs of material and transported by a dedicated truck or LTL. "It's exciting to see our first silo on the concrete pad, not only does it provide numerous benefits to our operation but it is also an indication of our continued growth here in Iowa", states operations manager, Ronda Haskell. The newly installed silo and bulk transport system will significantly reduce the material handling and product movement within the plant, free up warehouse space and eliminate the packaging costs for this particular program.