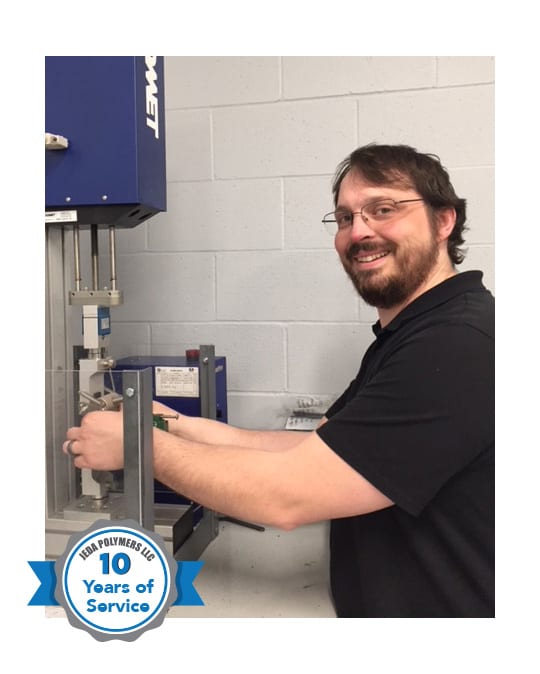 Team Member Spotlight -JDeeken
John Deeken, technical wizard at JEDA Polymers, is our featured employee for this blog. John will celebrate his 10-year anniversary with JEDA Polymers this year as the Engineering/Quality Management System Administrator. He began with the company while we were still in its infancy and our production facility was located in central Illinois. In 2015, John and his family moved to Dyersville, Iowa with the construction of the new plant. His highly analytical and technical skills have been instrumental for JEDA to grow and progress. In additional, John had spearheaded our ISO compliance certification and continues to manage our Quality Management System. Here's what John has to say about his role at JEDA, current projects and the Company culture.
What's a typical day look like for you at Jeda Polymers and what are you currently working on?
A typical day for me starts by checking with our operations team to address any process or quality issues that need attention. When the lines are running well, I move on to my project list. I am currently working on automated data collection and error notification for our processing equipment. The goal is to gather comprehensive data for analysis as well as to free the line operators from taking hourly logs. The new automated reporting system will notify the operations team when there is a process issue that requires prompt attention. When fully implemented, this will allow the operations team to focus more on working ahead to ensure changeovers are completed more quickly and spend more time with quality control processes while comprehensive process data is being collected for process refinement and quality assurance.
What is your favorite part of working at Jeda?
Jeff Goodwin, president and co-founder of JEDA, once said to me," I want the people working for me to be successful, because that is how I become successful." This sentiment has been there from the beginning and is only amplified in the culture that JEDA has developed. The commitment of our ownership to not only treat the team members respectfully but to encourage us and provide the tools we need to grow professionally is impressive. They also seek and value the counsel of the entire team. JEDA is a team from the top down and back up again, and working in that type of environment is extremely gratifying.
Of Jeda's core values, which is your favorite?
Mutual Trust and Respect
How has JEDA changed since you first started 10 years ago?
Since 2009, I have watched JEDA go from a single extruder, hand blending material, and production lulls to most recently, needing a third production line due to production demands. JEDA has also advanced with sophisticated mixing and monitoring systems which have improved production efficiencies.
Further, the culture has changed dramatically by shifting from traditional to a high-performance workplace where the whole team feels valued and acts accordingly. As a high-performance workplace, we all work together for our shared vision of success while constantly striving to do more and perform better. By implementing the key elements of this high-performance culture, the JEDA team is stronger than it has ever been before and continues to strengthen every day.
What 3 words describe JEDA?
Always moving forward